DOC.SPLASH! OCTOBER 2012
Movies
2.5 hrs
October 09, 2012 7:00 pm Tuesday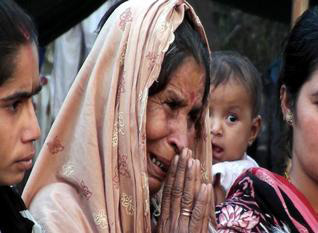 screening of
THE HUMAN BOUNDARIES - on the plight of Hindu refugees from Pakistan
NANOOK OF THE NORTH - Robert J Flaherty's classic. On the struggles of the Inuk Nanook and his family in the Canadian Arctic. The first ever feature documentary.
---
THE HUMAN BOUNDARIES
directed by RAHUL RIJI NAIR 35 min, 2011
A group of 151 Pakistani Hindus entered India on September, 2011 with a one month tourist visa. They came to take refuge from the various religious persecutions they had to face in Pakistan. The group which has a majority of children and women are now sheltered in a camp on the outskirts of New Delhi. But now their visa has expired and is facing deportation. Various organizations are fighting for the basic human rights of these people at the political and judicial level. Their story is a grim reminder of all those lives caught up in no man's land. As more boundaries are drawn across the human conscience, we fail to realize that humanity has always suffered because of those human boundaries. This documentary traces the difficulties they had to face in Pakistan, their life inside the camp and their hopes for tomorrow.
Rahul Riji Nair is a Business Analyst. His passion for film making inspired him to do this, his first documentary. He is a regular columnist for many publications and writes on social issues and international affairs.
Festivals etc : * Won the first runner-up for "Best Documentary" in Cinematheque 2012, a film festival conducted by the prestigious St. Xavier's College in Kolkata. * Screened at the International Human Rights Conference in New Delhi.
NANOOK OF THE NORTH directed by Robert J. Flaherty 79 min, 1922
The classic documentary follows the lives of an Inuit, Nanook, and his family as they travel, search for food, and trade in northern Quebec, Canada. Nanook, his wife, Nyla, and their baby, Cunayou, are introduced as fearless heroes who endure rigors "no other race" could survive.
Nanook is a 1922 silent documentary film by Robert Flaherty, in the tradition of what would later be called salvage ethnography. As the first nonfiction work of its scale, Nanook of the North was ground-breaking cinema. It captured an exotic culture (that is, indigenous and considered exotic to non-Inuit peoples) in a remote location. Hailed almost unanimously by critics, the film was a box office success in the United States and abroad.
Organizer
DOCUMENTARY CIRCLE OF HYDERABAD
DOCUMENTARY CIRCLE of HYDERABAD (DocuCircle) works to bring closer to audiences the kind of revelation and critical understanding good documentaries can provide , the art as well as the adventure of it! Promoting good documentary cinema and creating a vibrant docu culture in Hyderabad and Andhra Pradesh : that's what we have been working for! Starting off with a historical 8-day Hyderabad'i' Documentary and Short Film Festival (March, 2005), DocuCircle has been sourcing and screening some of the best contemporary documentary films, especially indie films. We take pride in inviting accomplished contemporary Indian documentary film makers to Hyderabad and show a significant part of their work. DocuCircle has, at present, two screening programmes every month : DOC.SPLASH! at 7.00 pm on the second Wednesday (normally) of every month at Lamakaan and POINT OF VIEW at 5.30 pm on the fourth Saturday (normally) of every month at Goethe-Zentrum. Launched in July, 2010, DOC.SPLASH! endeavours to showcase the range and variety of documentary cinema, both contemporary and from the past. As also to stimulate the proactive social and aesthetic impulses that docus can generate. We work in collaboration with Goethe-Zentrum, Hyderabad, Alliance Francaise of Hyderabad, U.S. Consulate General, Hyderabad, Great Hyderabad Adventure Club, Navatarangam and Lamakaan as also other organizations and institutions. Every few months we hold a short festival of docus spread over a couple of days on a chosen theme. POINT of VIEW is a joint initiative of Alliance Francaise of Hyderabad, Goethe-Zentrum, Hyderabad and DocuCircle for screening documentaries on environment and livelihood issues. DocuCircle's screenings are invariably followed by animated discussions with the filmmakers themselves (if present) and with experts and activists from the concerned fields.