Lamakaan Organic Bazaar
Exhibition
3.0 hrs
February 02, 2020 10:30 am Sunday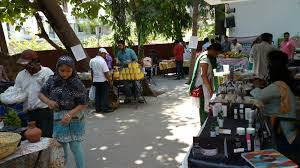 On this Sunday morning through afternoon come and explore wide range of Organic Fruits, veggies & groceries Homemade Breads and other baked goods; Organic Lunch, Handicrafts and Handlooms, Handmade Jewelry, Terrace Gardening Corner, Creative Design Spaces. Every Sunday 10:30am - 1.30pm For details: 9642731329. Entry Free. All are Welcome.
Organizer
Lamakaan Organic Bazaar
Lamakaan an open cultural space.