Two Hindi Plays
Play
2.5 hrs
October 13, 2019 6:30 pm Sunday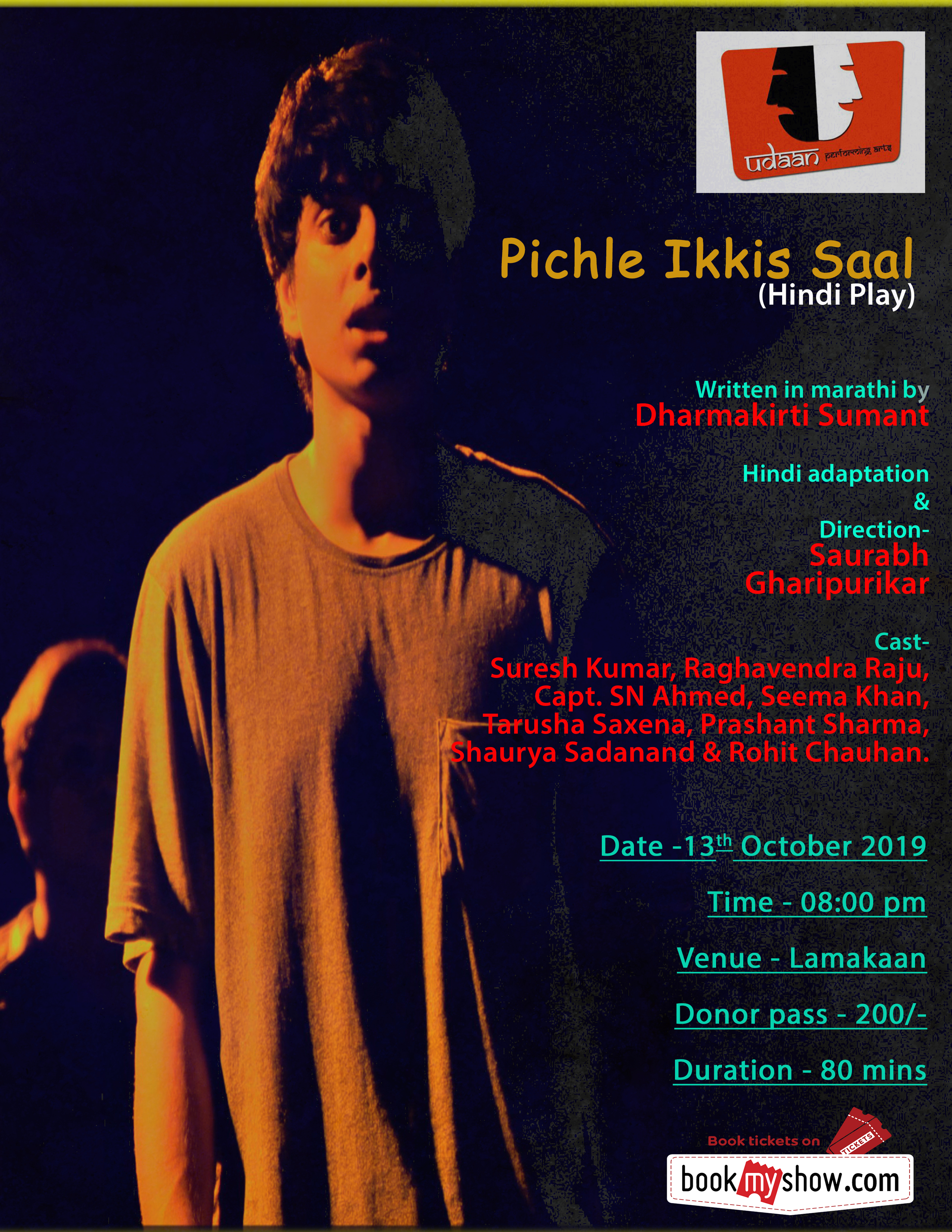 Udaan Performing Arts, Hyderabad is staging two Hindi plays on the same day i.e. on 13th October ( Sunday ) 2019 at Lamakaan at 06:45 pm onwards.
1 Ek Akeli Aurat ( Synopsis ) - Locked in a flat, a solitary woman makes her confession. Amid domestic chores, dodgy phone calls, a sex-mad brother-in-law and a forever screaming baby she tells us the story of how her love for a young student led to her imprisonment at the hands of her jealous husband. Through farce to tragedy, her story propels the audience to its shocking climax.
2 Pichle Ikkis Saal ( Synopsis ) - "Insecurity, complex, pollution, money, cell phones, drugs, orkut, facebook, relationships, manners, ethics, love, parents, pressure, sex, freedom, capitalism, education , dependence, awareness, guilt, communication, happiness, confusion...Why do I do the things, which I do? I think rubbish. I feel rubbish... Who am I? I am not a hardcore rightist, nor a leftist. Not even a orthodox brahmin nor a suppressed dalit. Not a gay nor a part of the minority, not a lefty, or mentally ill..Who the hell am I? Just a oversensitive guy.. confused.. trapped!?
Where do I go.. ? What do I do? Will drugs help? Or should turn a blind eye? That wont help, I have tried.. I have tried everything.. Everyone has tried everything.."
Straight out of the minds of 21 year olds. The story of a youngster who finally goes to a reality show which is there to create an extremist, terrorist young force..Is it fundamentalist? Religious? Regional? Certainly not!
Exactly what happened with the young parents, involved in liberal, leftist, socialist movements in and after the 1975 Emergency? What happened with the concept of a free, secular, liberal and ideal nation worth to give birth to a child? What happened with the values and ethics which they expected from their previous generation of freedom fighters?
What exactly did happen in the last 21 years...(Pichle Ikkis Saal)
Organizer
Udaan Performing Arts, Hyderabad
Udaan Performing Arts, Hyderabad Promoted by UDAAN ACADEMY OF RTS & EDUCATION Hyderabad, Telangana.