Revolution 2020 - Discussions
Music
2.5 hrs
January 10, 2020 6:30 pm Friday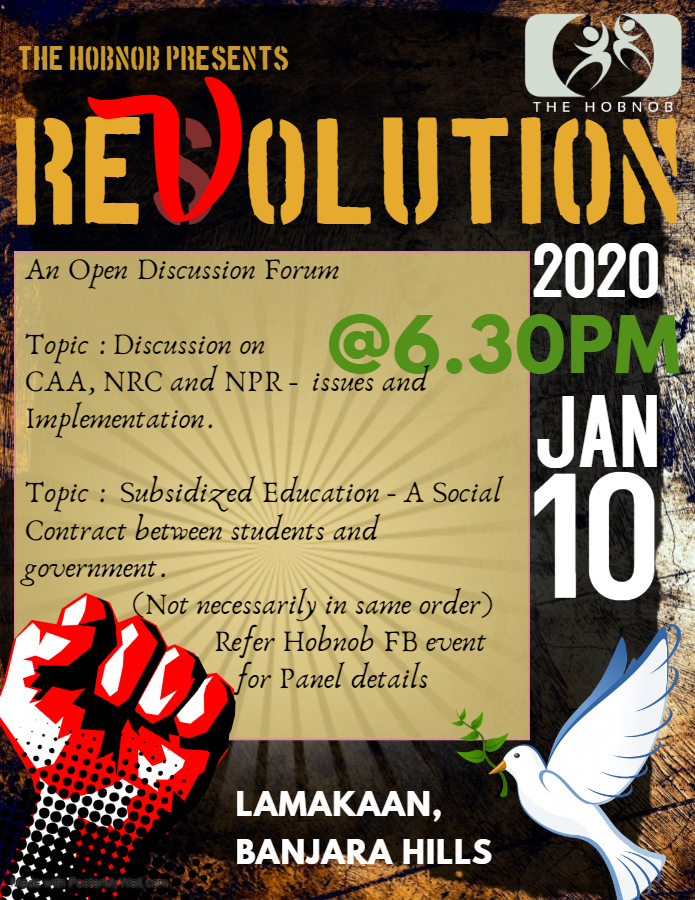 Hobnob Events and Entertainment presents ReVolution 2020, An Open Discussion Forum to discuss upon all such current issues and take not just resolutions but create a revolution for a better India. In our first of the kind series, we bring following topics for discussion with eminent personalities from across Hyderabad. Let there be solutions at the end of these discussions which can be shared with the larger community.
Topic 1: Subsidized Education - A Social Contract between students and government.
Topic 2: Discussion on CAA, NRC and NPR - issues and Implementation.
Entry: Free
Organizer
Ashish Shrivastava in association with Team Hobnobs
About Ashish: Experience in doing theater play and conducting events. About Hobnobs: Hobnobs is an events and entertainment company started in Hyderabad. We hobnobs are bringing together people from all the communities on a single platform. Our services varies from organizing plays, events, promoting talent & all kinds of workshops.