Main Rahi Masoom
Play
1.5 hrs
January 04, 2020 7:30 pm Saturday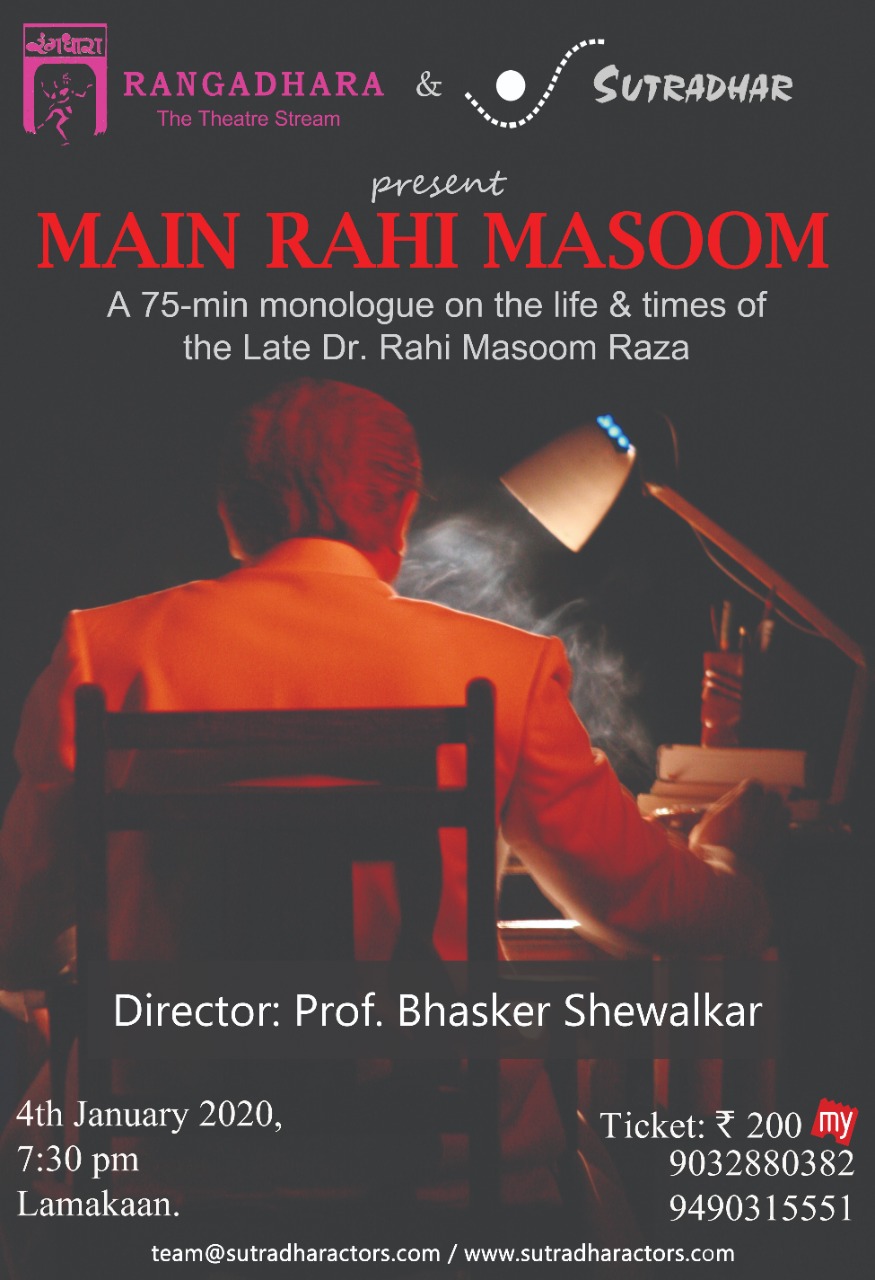 About the play:
MAIN RAHI MASOOM, a solo performance enacted by Vinay Varma and directed by Prof. Bhaskar Shewalkar is a biographical sketch of the famous Hindi and Urdu writer, the Late Dr. Rahi Masoom Raza. This performance is first of its kind on Rahi.
This 70-minute poignant monologue shows how Rahi detested communal and vote-bank politics, and how he fought against the divisive forces in the country through his writings. He was a strong nationalist first and a Muslim next. He also staunchly opposed pseudo-secularism. Sample this: "main ek Hindustani musalman hoon aur iske siva meri aur koee pehchaan naheen hai" or "vatan mazhab nahin jo badla ja sake". He was upfront against the fundamentalists on both sides of the divide. He was brutally honest regarding politics of hatred, and felt that the interest of communal elements among both Hindus and Muslims lies in keeping the two communities aloof from each other and to create distrust among them"…sampradaaikta(communalism) ka koee dharm nain hota" or "zahid-e-tang nazar ne mujhe kaafir jaana aur kaafir ye samajhta hai ki musalman hoon main……"
The monologue ends with Rahi's rare nazm Vaseeyat.
Rahi's journey begins on 1st September, 1927 in Gangauli, a small village in the Ghazipur district of Uttar Pradesh and ends with his vaseeyat in which he wills that he be laid to rest in the lap of Ganga, whom he considered his second mother. He passed away on 15 March 1992.
During his illustrious career, Rahi Masoom Raza has written lyrics, dialogues and stories for various movies and television series. His high came with the telecast of TV series 'Mahabharat' that was based on the Hindu epic Mahabharat. Rahi, a Muslim, wrote the screenplay and dialogue of the TV series that went on to become the most watched TV series in India. At one time, its TRP was a staggering 86 %. This was a triumph for Rahi as some Hindu zealots had criticized his inclusion in the team. Terms of address like "Matashri", "Pitashri", "Bhratashri", and "Jijashri" etc. were brought into the popular realm by Rahi.
Organizer
Sutradhar
Sutradhar has committed itself to work with, and promote home-grown talent. Towards this end we've been organizing Acting and Voice workshops and have trained about 75 individuals in the last 13 years. Some of them are reasonably well occupied with their passion. Sutradhar is a Theatre Group, Casting House, Voice and Acting School and Production Company, rolled into one. Briefly, it's a Talent-hub for Actors, Voices, Script-writers and Technical crew. Sutradhar has been involved with more than 22 plays and 60 shows in the last few years in Hyderabad, with performances in cities like New Delhi, Kolkata, Ahmadabad, Bangalore etc.. In fact, a major part of credit for generating interest in theatre amongst the Hyderabadi audience goes to Sutradhar. All our shows have been ticketed and we almost always sell out our tickets. That has also been our only revenue. Sutradhar has a strong audience base in the city because of its continuous theater performances over the past 13 years. Most of our audience belongs to the corporate and IT sector and several prominent personalities in town, apart from the regular theater enthusiasts and connoisseurs. Some of Sutradhar's well-known productions in the past have been ANDHON KA HAATHI, KISI AUR KA SAPNA, SAYYAN BHAYE KOTWAL, HAI MERA DIL, THE PHOENIX, NEEM HAKIM KHATAR-E-JAAN, ON VACATION, SONATA, PAGAL GHAR, GODSE…AN ASSASSIN SPEAKS, SITA APAHARAN CASE, SIYAAH HAASHIYE, BIRJEES QADAR KA KUNBA among others. Sutradhar also has a website www.sutradharactors.com dedicated to the craft.