Abbey! Em Ledu...
Play
0.5 hrs
February 20, 2020 8:00 pm Thursday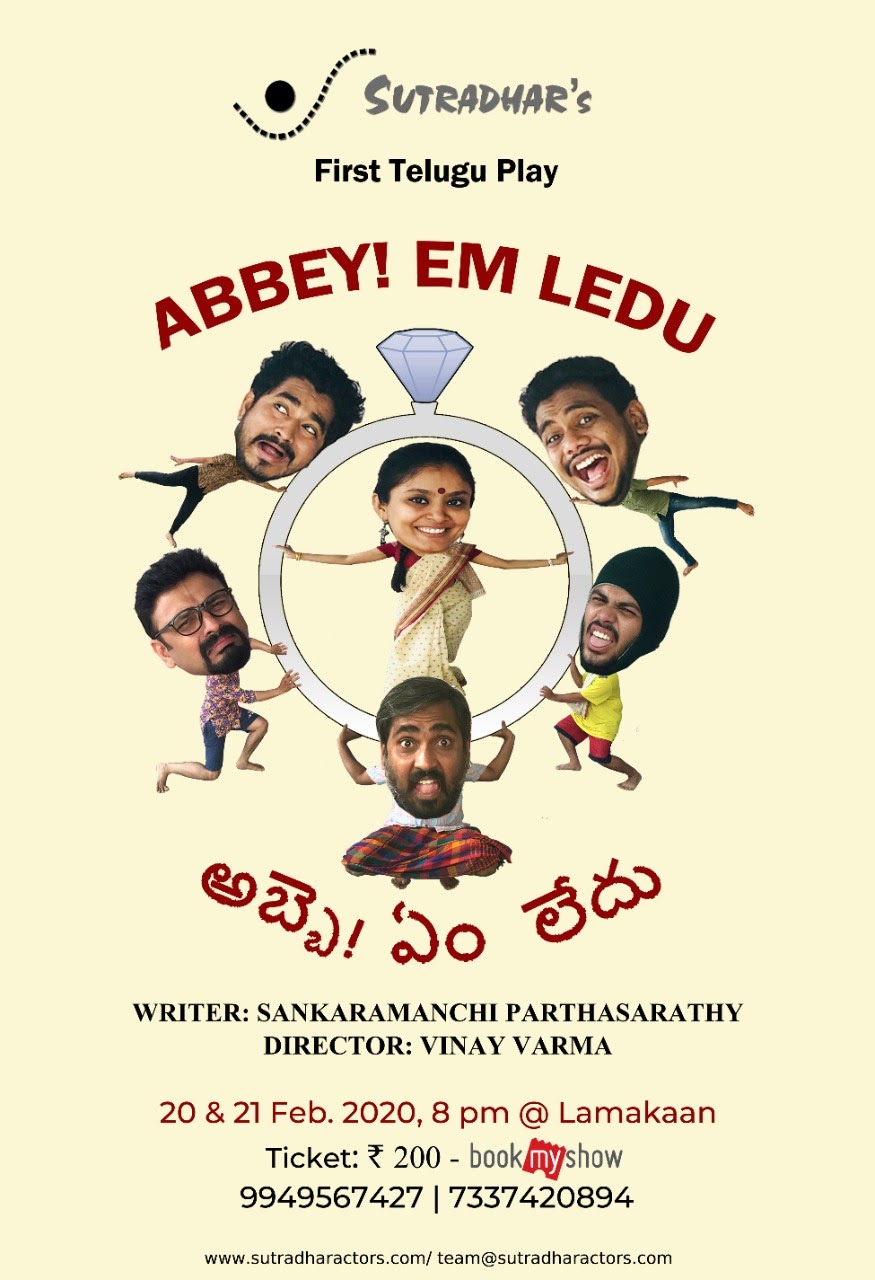 Sutradhar Presents Its first Telugu Play "ABBEY! EM LEDU…" Writer: Sankaramanchi Parthasarathy Director: Vinay Varma. A loving couple, their "deaf" cook, a colorful boss, two intruders, a lost ring, a Doctor who never turns up… and an adventure with the "forbidden apple". On a relaxed weekend, a young homemaker loses her expensive ring as she's leaving for a family function. The husband, as it happens often, suspects the deaf and "ailing" cook – at loggerheads with him all the time - of stealing and promises to find the ring by the time she returns. Enter the boss, planning a rendezvous. Absence of wife at home brings in sneaky opportunities for the husband to explore. As he steps out, two small-time thieves enter for a quick robbery. The Boss now pretends to be the cook in front of the intruders, whom he presumes to be the Doctor and his Compounder, misleading to a mashup of events. What follows next is a comedy of errors, creating more confusion, just as the ring is found…And the wife returns…Who is the thief? Does the wife eventually get her ring back? Find out all this and much more harmless mischief in Sankaramanchi Parthasarathy's Telugu One-Act "Abbey! Em Ledu…", directed by Vinay Varma. At Lamakaan on 20th and 21st February 2020. 8 pm on both the days. Ticket: Rs. 200/-, available with www.bookmyshow.com Contact: Swetha @ 9949567427 and Subhra @ 7337420894
Organizer
Sutradhar
About the group: Sutradhar has committed itself to work with and promote home-grown talent. Towards this end, we've been organizing acting and voice workshops, and have trained close to 300 individuals in the last 18 years. Sutradhar is a theatre group, casting house, voice & acting school, and a production company rolled into one. It's a talent-hub for actors, voices, scriptwriters and technical crew. Sutradhar has been involved with more than 50 plays and 150 shows in Hyderabad, with performances in cities like New Delhi, Kolkata, Ahmedabad, Bangalore, Chennai, Bhopal, Mumbai, Pune, Indore, Lucknow, Allahabad, and Rishi Valley School among others. Internationally Sutradhar's founder Vinay Varma has performed in Abu Dhabi and London. In fact, a major part of credit for generating interest in theatre amongst the Hyderabadi audience goes to Sutradhar. All our shows are ticketed and that remains our only revenue. Some of Sutradhar's well-known productions in the past have been Andhon ka Haathi, Kisi Aur Ka Sapna, Sayyan Bhaye Kotwal, Hai Mera Dil, Neem Hakim Khatar-e-Jaan, On Vacation, Main Rahi Masoom (based on the life and times of Dr. Rahi Masoom Raza), Sonata, Godse – An Assassin Speaks, Sita Apaharan Case, Siyaah Haashiye, Ismat – Ek Aurat, Birjees Qadar Ka Kunbaa, Biriyani aur Haleem, Agnes of God, Kanjoos Makkhi Choose, Oleanna, Andhere Mein among others. Sutradhar regularly conducts Acting and Voice Workshops and doubles up as Casting Director, regularly outsourcing Actors and Voices for films, television, corporate films, documentaries, etc. To know more about Sutradhar, please log on to www.sutradharactors.com.