Celebrating Shaheen Bagh!
Meeting
3.0 hrs
December 16, 2021 2:00 pm Thursday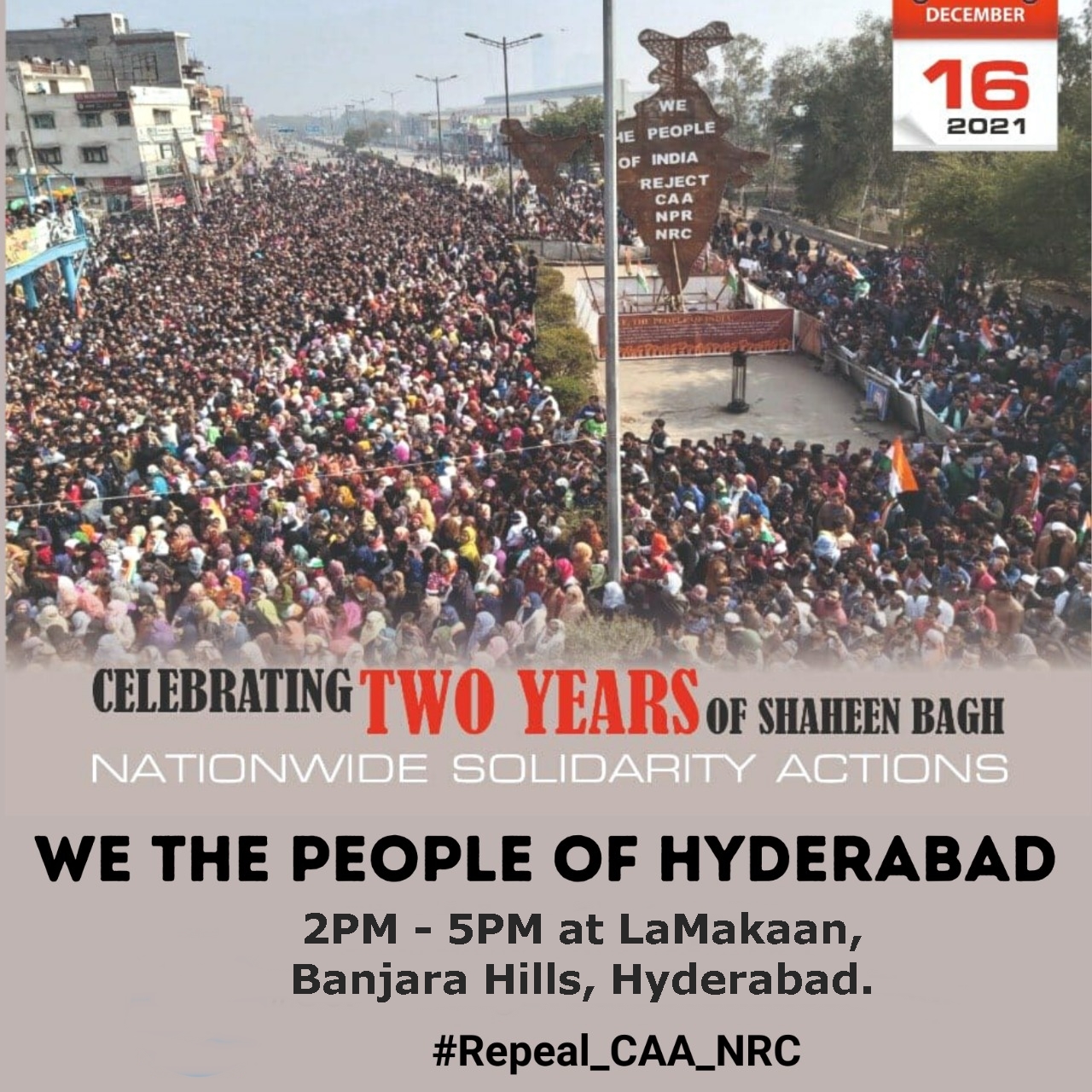 We The People of Hyderabad
Celebrating Two Years of Shaheen Bagh!
The Citizenship Amendment Act was notified on December 12, 2019 and came into effect from January 10, 2020. The discriminatory nature of the Act evoked strong condemnation from citizens across the country . The most significant and path breaking protest was that of the women who converged on a major road- Road 13 A, G. D. Birla Marg, Shaheen Bagh in New Delhi from 15 December 2019 onwards.
Led by senior citizens fondly known as the Shaheen Bagh Dadi's, this protest was strong & sustained without any political affiliation. It was the voice of the common man. Many such Shaheen Bagh's were replicated all over the country.
Students, human rights activists and the ordinary man on the streets joined hands for a common cause - Repeal of CAA !!
Hyderabad was not to be left behind as people from all walks of life joined in to create multiple Shaheen Bagh's in the city. Many activists were detained but that did not deter the protesters.
As part of the nationwide commemoration and celebration of Shaheen Bagh and the brave Indians who stood firmly against injustice, We The People of Hyderabad are meeting on Thursday, 16 December'21, 2-5 PM at Lamakaan, Banjara Hills to celebrate the second anniversary of Shaheen Bagh.
It's a celebration of our unity and nationhood!
Organizer
Awami Insaaf Movement
Awami Insaaf Movement