Remembering Daagh Dehlvi
Seminar
2.5 hrs
May 29, 2022 7:00 pm Sunday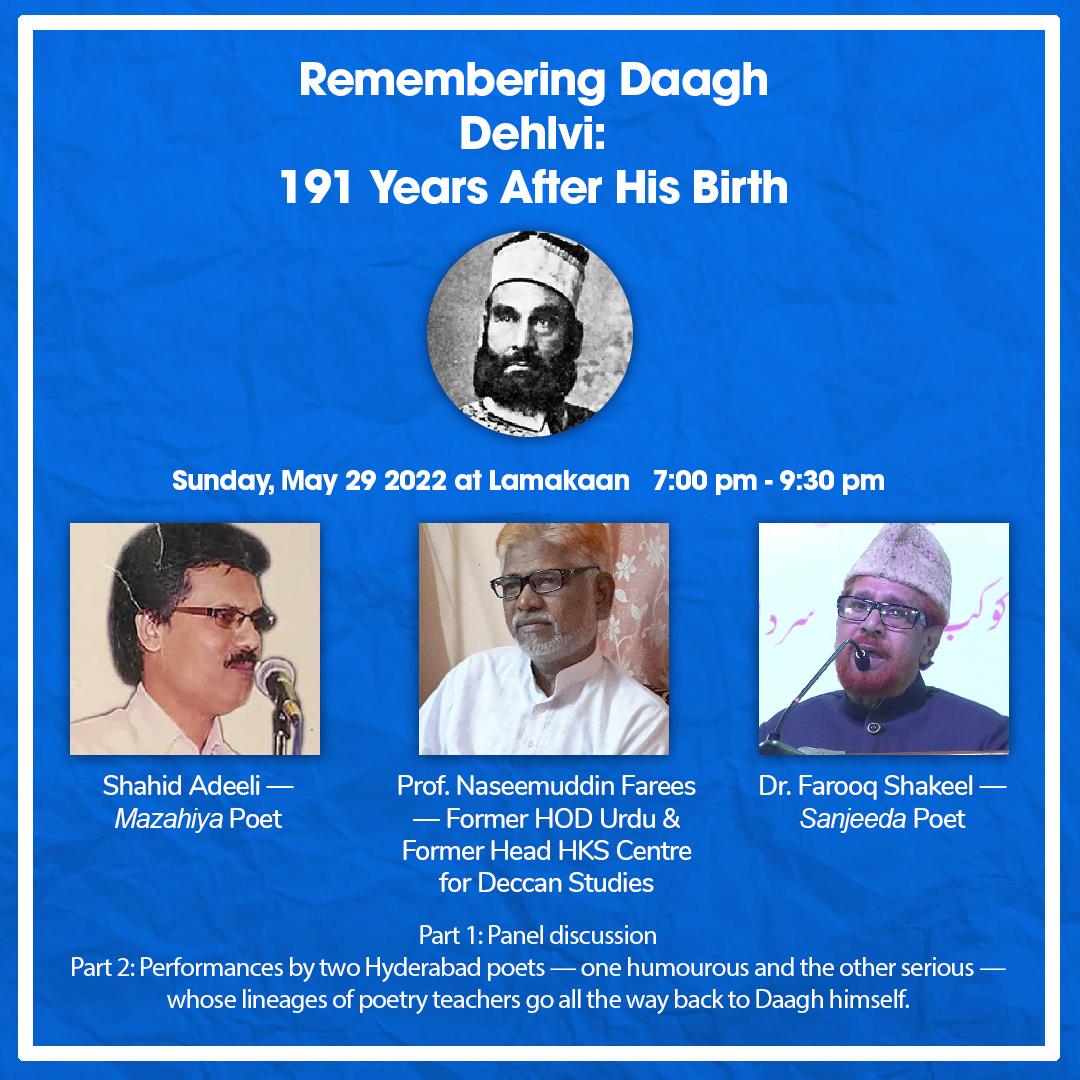 اردو ہے جس کا نام ہمیں جانتے ہے داغ
ہندوستان میں دھوم ہماری زباں کی ہے
Urdu hai jis ka naam humeen jaante hai Daagh
Hindustan mein dhoom humari zabaan ki hai
Although born in Delhi, Nawab Mirza Khan — better known by his pen-name Daagh Dehlvi — flourished as a poet in Hyderabad. Patronized by the sixth Nizam, Mir Mehboob Ali Khan, he made a name for himself down south. His mother Wazir Khanum, who was quite the rebel for the times she lived in, finally had her story told in Shamsur Rahman Faruqi's Kai Chaand The Sar-e-Aasmaan. While not as feted as Mirza Ghalib or Mir Taqi Mir, the simplicity and wit of Daagh's poetry endears him to many Urdu novices as well as seasoned enthusiasts/scholars/litterateurs till this day.
That too, through musical renditions of Mohammed Rafi, Noor Jahan, and Farida Khanum. In more contemporary times, Kavita Seth's versions of Daagh's ghazals in "A Suitable Boy" have also become popular.
Just a few days after his 191st birthday, join us at LaMakaan for a talk on Daagh Dehlvi on Sunday, May 29. Maulana Azad National Urdu University's former Urdu Department Head and authority on poetry from the Deccan, Naseemuddin Farees, will speak about Daagh's early life, repertoire, and his very eventful time in Hyderabad.
After the discussion, mazahiya poet Shahid Adeeli and sanjeeda poet Dr. Farooq Shakeel — two Hyderabad-based Urdu poets will be performing. Their lineage of poetry teaches goes back all the way to greats like Daagh, Mir, and Zauq.
Naseemuddin Farees — Naseemuddin Farees is a former Professor of Urdu at the Maulana Azad National Urdu University. He served as the Head of the Haroon Khan Shervani Centre for Deccan Studies and he also was the head of the Urdu department at MANUU. Farees is an authority on poetry and literature from the Deccan.
Shahid Adeeli — Shahid Adeeli is a humour poet and also the son of Nazeer Ali Adeel. Adeel was taught by Safi Aurangabadi whose lineage of teachers has links to Dabistans of Delhi, Lucknow, and Hyderabad. A recipient of the Telangana State Government's Lifetime Achievement Award, he has performed in many mushairas in India and abroad.
He has had two his poetry collections, "Aaain Baain Shaayin" and "Wah Wah," published.
Dr. Farooq Shakeel — Farooq Shakeel is also the son of Nazeer Ali Adeel. A mainstay at many mushairas, he has published many works such as Safar Sanson Ka, Tanqeedat, Mhaavarat-e-Adeel, Mhavaraat-e-Adeel, Mhavaraat-e-Safi Ka Taqbali Mutala and Shaake-e-Sambar. Shakeel has received two Lifetime Achievement Awards from the TS/AP Urdu Academies.
More on Daagh https://www.thehindubusinessline.com/blink/cover/leaving-a-mark/article26542836.ece
ALL ARE WELCOME!!!
-- Daneesh Majid
MA - South Asian Area Studies
SOAS - University of London
Website: bydaneeshmajid.wordpress.com
Skype: dan.majid24
Organizer
Lamakaan & Danish Majid
Lamakaan, An Open Cultural & inclusive Space in Hyderabad that promotes and presents the best of arts, literature, movies, theatre, debates, discussions, and dialogue with a commitment to being open and accessible.