World Social Media Day
Meeting
2.0 hrs
June 30, 2022 4:00 pm Thursday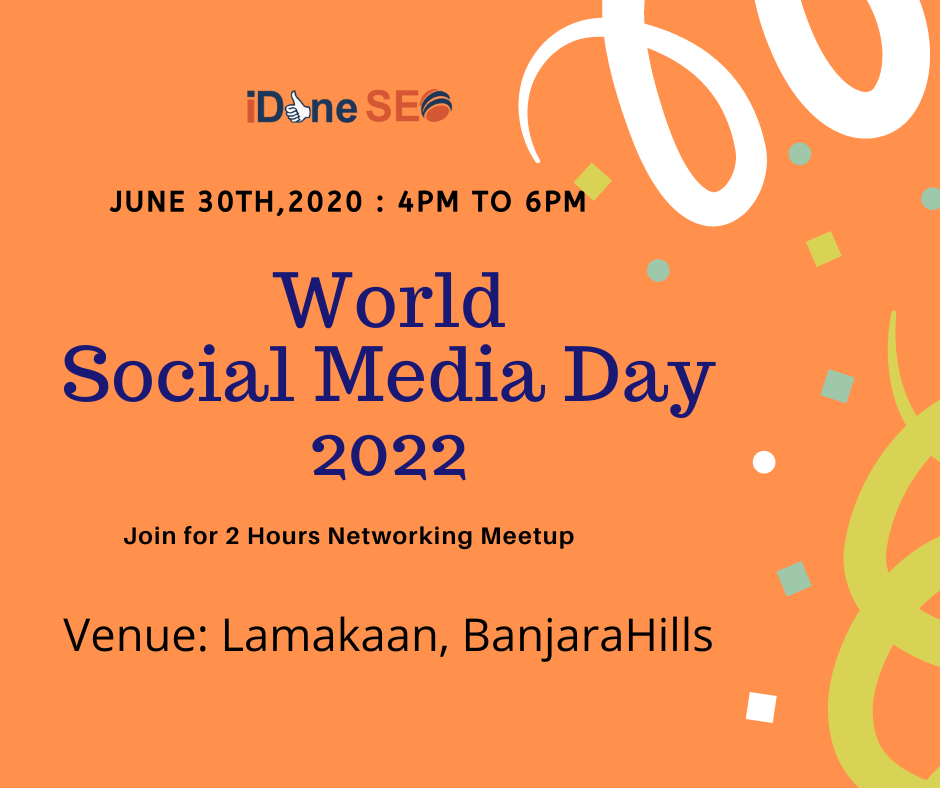 Join us for the Social Media Day on June 30th, at Lamakaan, Hyderabad
Attend our 2 Hours Networking Meetup and Interact with Product Owners, social media professionals.
Social Media Day is an important day to celebrate not only as someone who is interested in the evolving medium, but also as an entrepreneur, as a marketer, as a student looking to create opportunities using Social Media.
Agenda for Social Media Day:-
We Invite all Social Media Professionals, / Start ups / Brands, etc to join Social Media Day to Interact with Product Owners, Startup Entrepreneurs.
Social Media Day is celebrated as an informal meeting, open discussion. Mainly we are looking for all seo, social media experts, digital marketing companies and freelancers to meet each other in a very informal setting.
people can start discussion on one topic and take initiative to speak for some time and lead the discussion
Bring all the questions you have in your mind and share with other members in the fraternity.From content writing to resource hunting to ROI, shoot all the problems you want to sort. You will definitely find answers.
Pitch your Business / validate your Go-To-Market strategy / Get Feedback.
This will help to get overview of the projects which could be interesting for them.
---
Note :Introduction should be complete within 2 minutes to give opportunity for others.
Who you are | What you do | What you are looking for
All who are into Digital Marketing are Welcome!!
Thank you, Chakri. WhatsApp @ 9985032005
Organizer
Chakrapani
Founder of iDoneSEO. Running Digital Marketing Community in Hyderabad. We help Upcoming Brands to get more traffic, branding, leads from SEO & Social Media.