GhodeKo Jalebi Khilane LeJa Riya
Movies
2.5 hrs
November 12, 2022 6:30 pm Saturday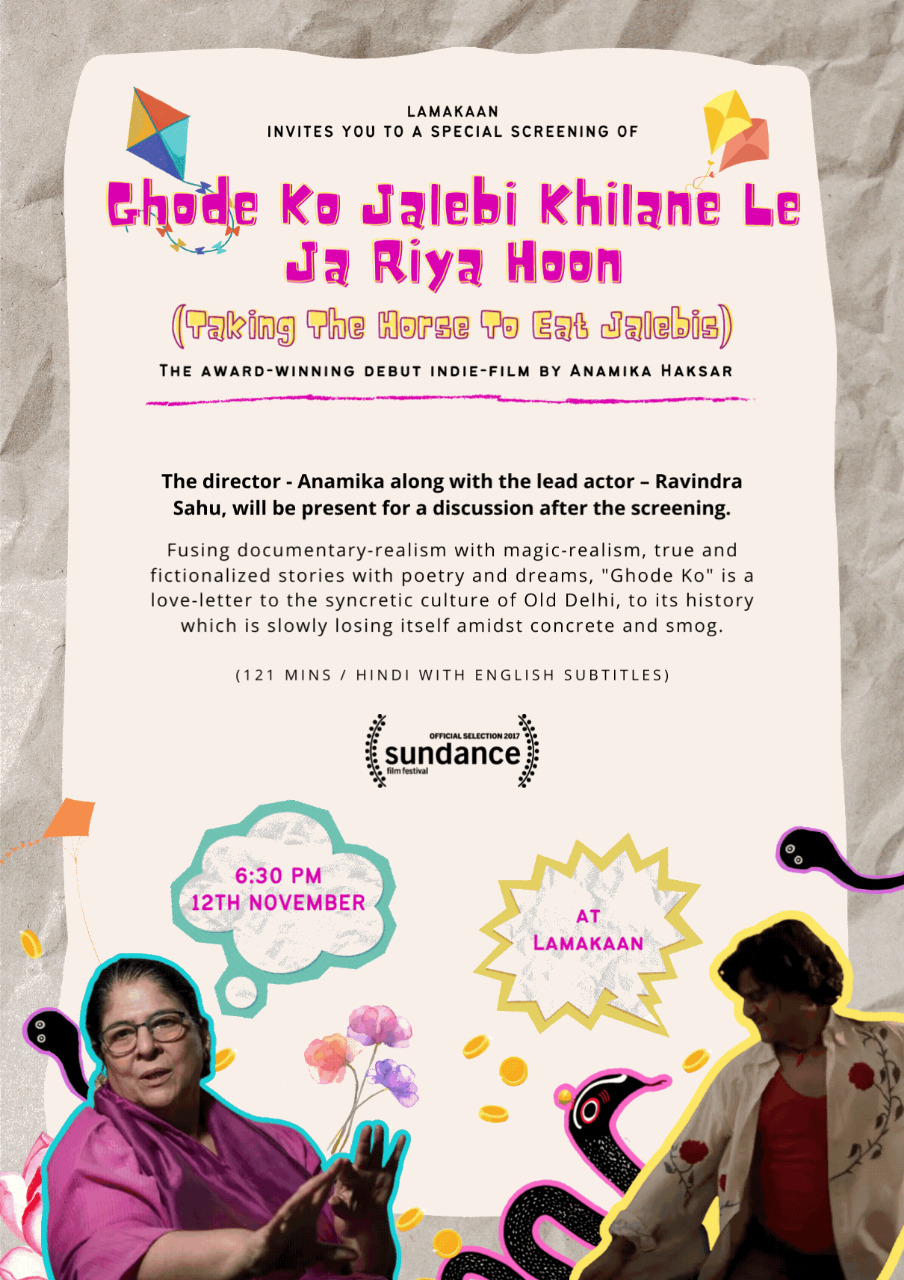 Lamakaan invites you to the special screening of GHODE KO JALEBI KHILANE LE JA RIYA HOON film and followed by a discussion with the filmmaker, Anamika Haksar, and the protagonist, Ravindra Sahu, K.
Film Title: GHODE KO JALEBI KHILANE LE JA RIYA HOON Hindi/Urdu | 2018 | 121 minutes | Subtitled in English
Synopsis: Ghode Ko Jalebi Khilane Le Ja Riya Hoon (Taking the horse to eat Jalebis) is a 2018 Indian film by Gutterati Productions.
This film is a result of seven years of documentation of the lives of street people of Old Delhi – beggars, pickpockets, loaders, small-scale factory workers, street singers, street vendors, etc. Anamika Haksar directed the film.
The film is a "masterpiece of contemporary Indian cinema" by Kinoscope. It has won international and national awards and has been screened at numerous film festivals.
Ghode Ko Jalebi Khilane Le Ja Riya Hoon first premiered at the Mumbai Academy of the Moving Image (MAMI) festival in 2018. It was also the only film selected for the Sundance New Frontier Festival in 2019.
Anamika Haksar's debut feature film, Ghode Ko Jalebi Khilane Le Ja Riya Hoon, which released in selected theatres on 10 June 2022. Two years after, it was selected to be screened in The New Frontiers section of the Sundance Film Festival, the only Indian film in that category.
SCREENING FOLLOWED BY A DISCUSSION WITH THE FILM DIRECTOR
ALL ARE WELCOME!!! ENTRY IS FREE & OPEN TO ALL!!!
Your donations are welcome. It helps independent directors like Anamika Haskar to make more films.
Organizer
Lamakaan
Lamakaan, An Open cultural & inclusive space in Hyderabad that promotes and presents the best of arts, literature, movies, theatre, debates, discussions, and dialogue with a commitment to being open and accessible.