Freedoms & Persecutions
Discussion
2.0 hrs
September 10, 2023 7:00 pm Sunday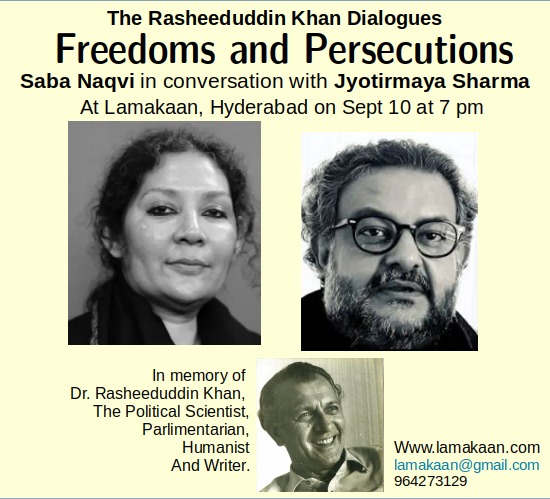 The Rasheeduddin Khan Dialogues Freedoms & Persecutions Saba Naqvi in conversation with Jyotirmaya Sharma
Author, journalist and commentator, Saba Naqvi is one of India's best-known political analysts. She has published many books, including In Good Faith and Shades of Saffron: From Vajpayee to Modi. Saba was the former political editor of Outlook magazine and now writes columns in leading national dailies and websites.
Prof. Jyotirmaya Sharma is a public intellectual, political philosopher and professor of political science at the Department of Political Science at the University of Hyderabad, Telangana, in India. He has held several international academic positions and serves on many academic and scientific bodies.
These lectures are organized in memory of Prof. Rasheeduddin Khan who was a renowned Political Scientist and Parliamentarian. He saw the struggle for human rights and multiculturalism as major aspects of the federal idea. Prof. Khan was a popular orator who combined earthy directness with professorial profundity.
ALL ARE WELCOME!
Organizer
Lamakaan
Lamakaan, An Open Cultural & inclusive space in Hyderabad that promotes and presents the best of arts, literature, movies, theatre, debates, discussions, and dialogue with a commitment to being open and accessible.