Jee, Jaisii Aapkii Marzii
Play
1.5 hrs
August 13, 2023 7:30 pm Sunday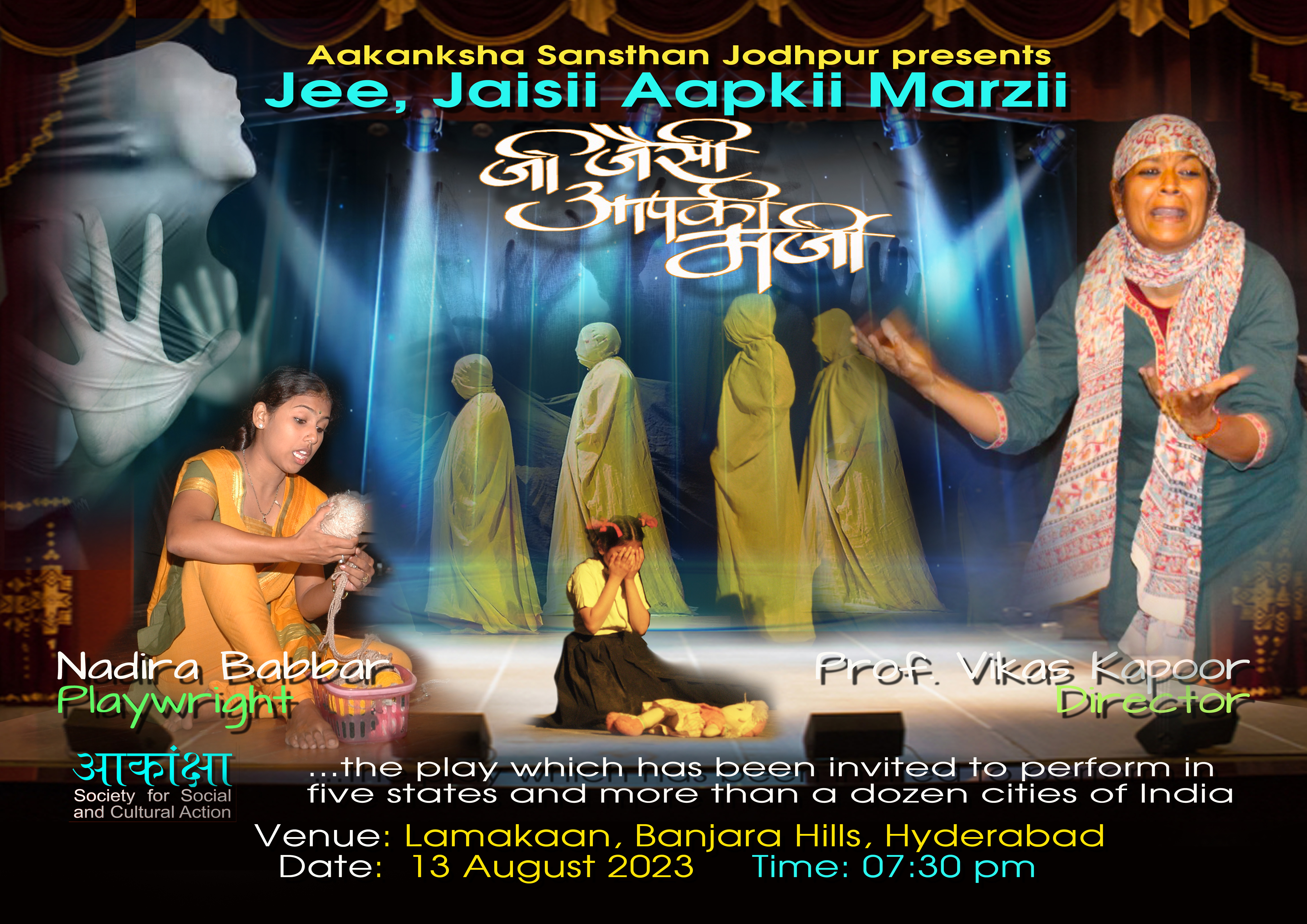 Aakanksha Sansthan, Jodhpur is delighted to perform its play "Jee, Jaisii Aapkii Marzii" at Lamakaan Hyderabad.
Jee, Jaisii Aapkii Marzii is a Hindi play written by Nadira Zaheer Babbar. The play beautifully weaves around the story of four different women representing the various strata of society. Although they come from diverse backgrounds and situations, one thing unites them all. The play portrays the societal treatment towards them and how women are still looked at in this era. Presenting four different monologues.
Title of the play: "Jee, Jaisii Aapkii Marzii" (Hindi) Playwright: Nadira Babbar Director: Vikas Kapoor Duration: 1 hour and 30 minutes (without intermission) Genre: Contemporary Social Critique - A poignant comment on the four stages of a woman's life
Ticket: Rs.200/-
Organizer
Aakanksha Sansthan, Jodhpur & Lamakaan
Aakanksha Sansthan is an amateur society of Jodhpur that was formed and registered in 2002 to work towards enriching the social, cultural, artistic, and intellectual life. In a short but productive span of twenty years, the society has assembled a group of theatre artists, litterateurs, social scientists, and film critics that continue hosting theatre festivals and discussions and organizing training camps, street plays, and various other programs. Aakanksha Sansthan is an affiliate member of IPTA Rajasthan. Lamakaan, An Open Cultural & inclusive space in Hyderabad that promotes and presents the best of arts, literature, movies, theatre, debates, discussions, and dialogue with a commitment to being open and accessible.