9th Hasan Memorial Lecture 2023
Seminar
2.0 hrs
August 27, 2023 7:00 pm Sunday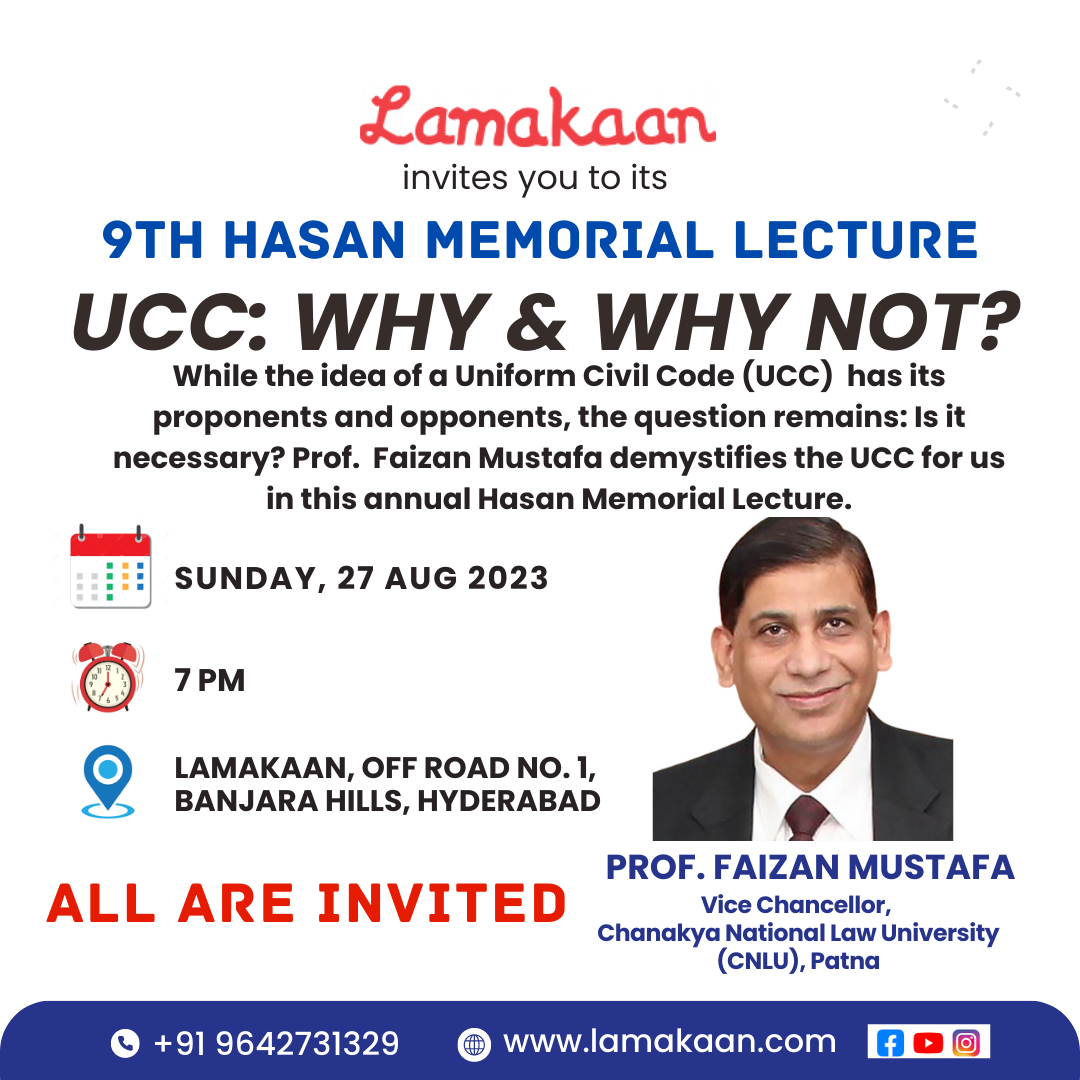 Lamakaan invites you to its 9th Hasan Memorial Lecture 2023 on 'UCC: Why & Why not?' by Prof. Faizan Mustafa.
About the topic:
The concept of a Uniform Civil Code (UCC) in India has long been a topic of intense debate and discussion. The UCC proposes a single set of personal laws for all citizens of the country, irrespective of their religion, thereby aiming to replace the existing diverse set of personal laws that are based on religious beliefs and practices. While the idea of a UCC has its proponents and opponents, the question remains: Is it necessary?
About the speaker: Prof. Faizan Mustafa is an Indian academic and legal scholar. He is the new vice-chancellor of the Chanakya National Law University (CNLU) Patna. He is the former Vice-Chancellor of NALSAR University of Law, Hyderabad and before that, he was also the founding V.C. of National Law University Odisha. He sits on the board of directors of the technology incubator, the T-Hub.
About Hasan Memorial Lecture:
The Hasan Memorial Lecture was instituted in 2014 and is held each year at Lamakaan on August 15 with an eye to the emergent political and economic crisis in India/South Asia or the world. It is our single most crucial programming effort each year and draws a very significant audience. The previous editions of the lectures were delivered by TM Krishna, Prof. Jayati Ghosh, Prof.Gail Omvedt, Bharat Patankar, and Prof.Kodandaram, Siddharth Varadarajan, et al.
Mr. Moyed Hasan in whose memory the annual lecture is named, was a scientist, a photographer, an environmentalist, and a person with a deep concern for the lives of ordinary people. His house, which he named Lamakaan (as in the Sufi literary tradition to mean 'an abode for those who travel without any worldly possessions') " has now become an important part of Hyderabad's culture and political life. Mr. Hasan left behind an image of what an engaged life is. From science to art, and environment to international affairs he encompassed a vision of how we must live meaningfully.
ENTRY FREE & OPEN TO ALL!!!
Organizer
Lamakaan
Lamakaan, An Open Cultural & inclusive Space in Hyderabad that promotes and presents the best of arts, literature, theatre, debates, discussions, and dialogue with a commitment to being open and accessible.