Citizens Dialouge
Discussion
3.0 hrs
September 24, 2023 2:00 pm Sunday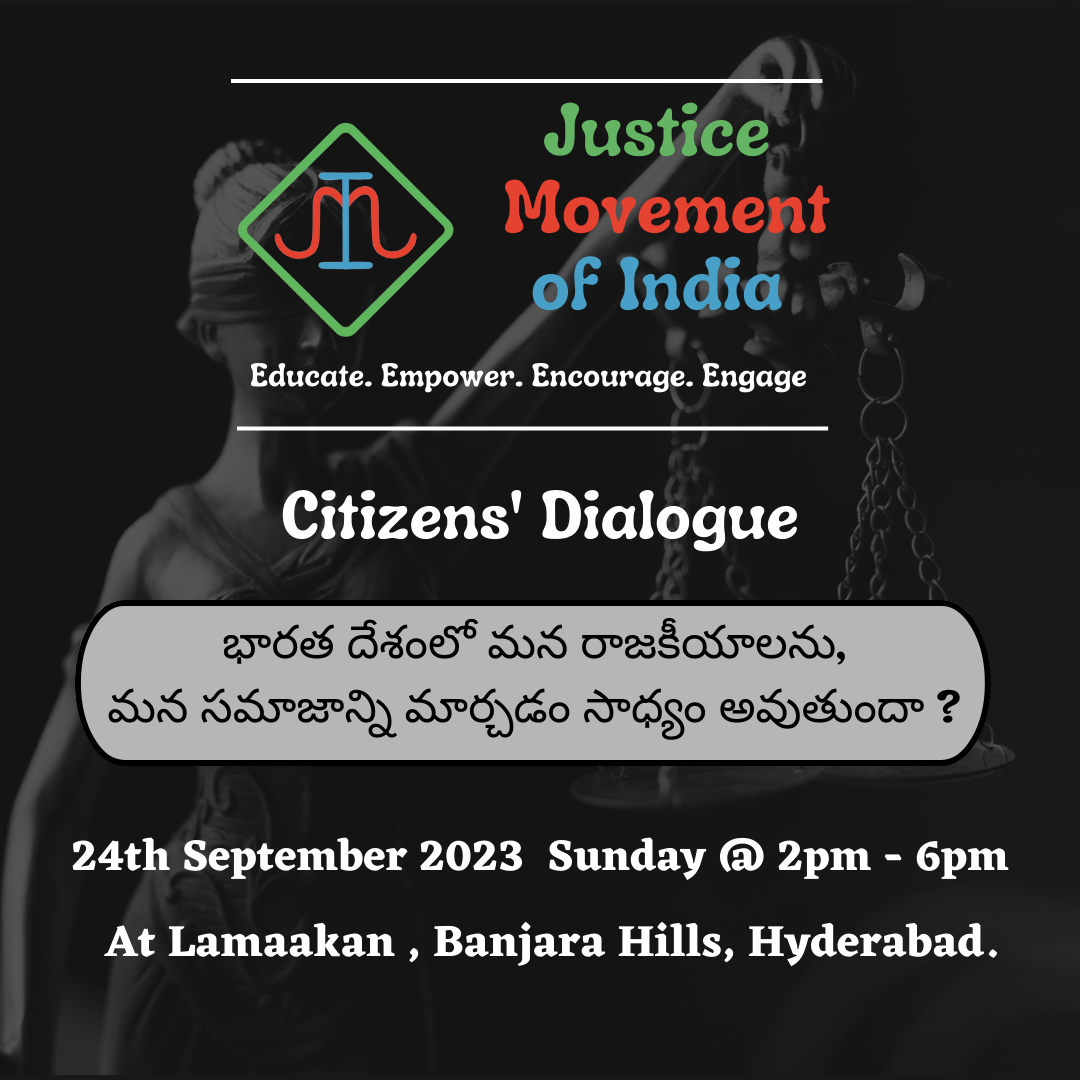 Hello everyone, as we know, it's been 76 years since independence, but our Vision for our country, inscribed in our constitution, is still a distant dream. Our preamble emphasizes social justice, economic justice, and political justice, and due to the changing circumstances, it became a mandate to practice environmental justice to protect our earth. Therefore, we believe that upholding these four justice principles is crucial for becoming a progressive nation. Understanding this Vision, we - a group of responsible citizens, have started the "Justice Movement of India." It is a long-term movement aimed at bringing citizens, activists, experts, NGOs, Civil society organizations, and intellectuals together for the sake of our Nation's progress.
We are organizing a "Citizens Dialogue" on 24th September from 2 pm to 6 pm, and we request you to attend to discuss "Will it be possible to change our politics and our society in India?." ( The Dialogue will take place in Telugu ).
Website: https://justicemovementofindia.org/
Thanks Akarsh Sriramoju(Educational Psychologist) JMI- Organizer
Organizer
Akarsh Sriramoju
I see myself as a socio-political reformer and also an educational psychologist. Recently, I started a long-term campaign called Samagra Serilingamapally, and this initiative aims to make the serilingampally constituency an inclusive and sustainable place to live. This campaign is part of the Justice Movement of India. We aim to create sustainable communities and cities in India.