Burning Pyres, Mass Graves
Book Discussion
2.0 hrs
November 05, 2023 7:00 pm Sunday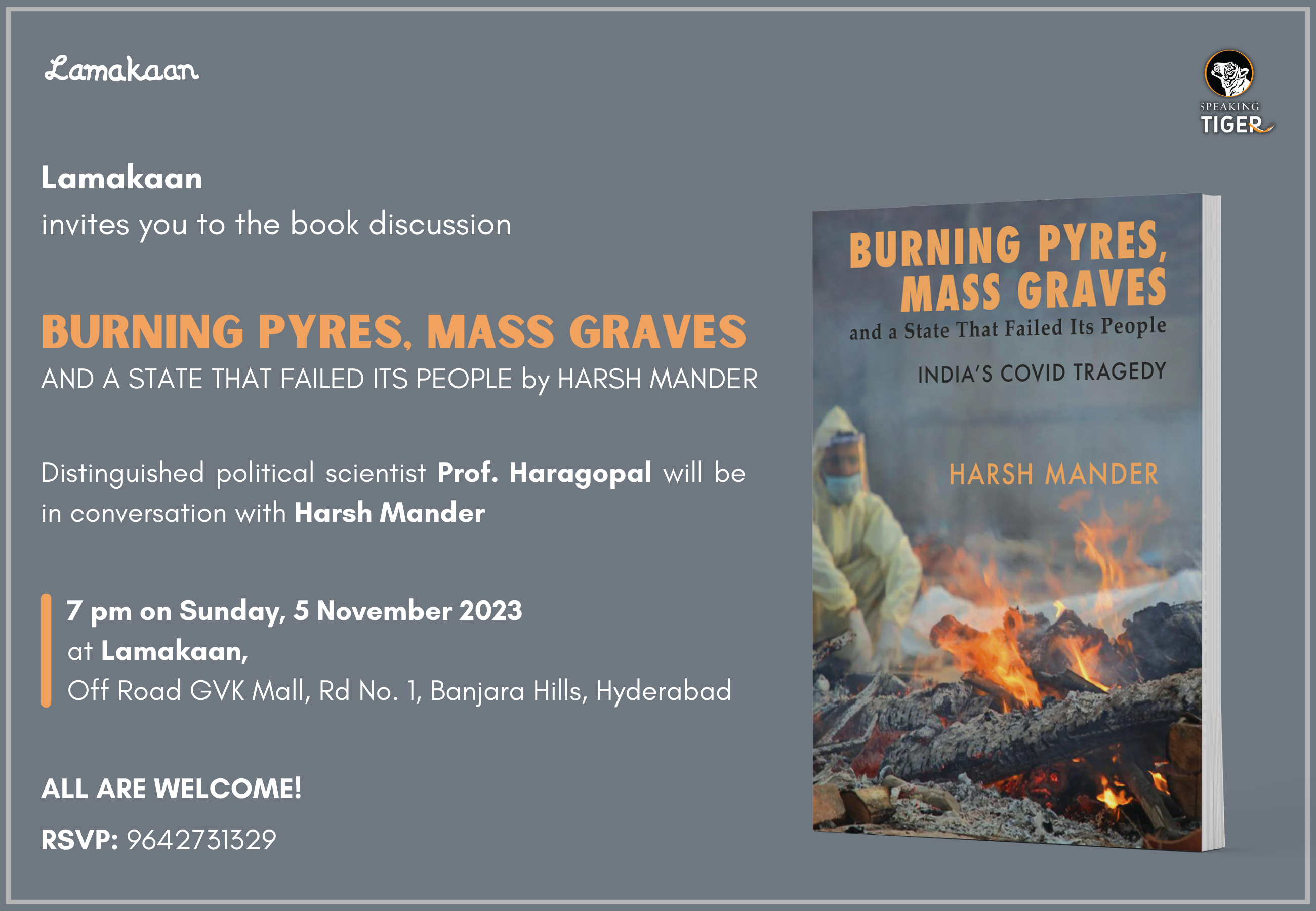 Lamakaan invites you to the book discussion of Harsh Mander's latest book BURNING PYRES, MASS GRAVES AND A STATE THAT FAILED ITS PEOPLE INDIA'S COVID TRAGEDY
Discussant: Prof Haragopal, a distinguished political scientist.
About the book: The summer of 2021 saw a massive rise in the number of infections and deaths from Covid-19 in India. Even by conservative estimates, at least 1.5 million people had lost their lives by June; several times the official figure. As in the first wave of the pandemic, this time, too, the chaos and suffering was in large measure, as Harsh Mander shows, due to mismanagement by an uncaring and cynical state.
The first part of the book, 'Locking Down the Poor', describes the grave humanitarian crisis of 2020, which pushed the urban poor to the brink of starvation. It shows how this was a direct consequence of public policy choices that the central government made, particularly imposing the world's longest and most stringent lockdown, with the smallest relief package. Mander brings us voices of out-of-work daily-wage and informal workers, the homeless and the destitute, all overwhelmed by hunger, humiliation and dread. From the highways and overcrowded quarantine centres, he brings us stories of the estimated 3 crore migrant workers whose livelihoods were destroyed, forcing them to walk hundreds of kilometers to their villages.
The second part of the book, 'Burning Pyres, Mass Graves', records the horrors of the following year, when everything from hospital beds to oxygen and essential medicines fell disastrously short. Mander traces the causes for these shortages to the criminal neglect of public health in India, a situation made worse under the Narendra Modi government, leading to the extortion of a beleaguered population by everyone from suppliers of oxygen cylinders to pharma billionaires. He holds the state culpable for indulging in pageantry—with the PM advertising himself as a messiah—when the country needed to brace for the impact of the second wave.
Combining ground reports with hard data and first-hand knowledge, Mander chronicles the greatest humanitarian catastrophe India has faced in a century, the effects of which will be felt for decades. This powerful, even shattering, book is a necessary record of a national tragedy that too many of us want to forget, when remembering is our only defence against a similar disaster in the future.
The Author Harsh Mander is one of India's most trusted and courageous social justice and human rights activists. He is also the author of several acclaimed books on contemporary India, among them, Looking Away: Inequality, Prejudice and Indifference in New India; Ash in the Belly: India's Unfinished Battle Against Hunger; Fatal Accidents of Birth: Stories of Suffering, Oppression and Resistance; and This Land Is Mine, I Am Not of This Land: CAA–NRC and the Manufacture of Statelessness.
ALL ARE WELCOME!
Organizer
Lamakaan & Harsh Mander
Lamakaan is an Open Cultural & inclusive space in Hyderabad that promotes and presents the best of arts, literature, movies, theater, debates, discussions, and dialogue with a commitment to being open and accessible.